"Non-tillage Fertilizer" is a new product with high activity and biological fertility. Adding soil conditioning agent, in addition to the characteristics of ordinary fertilization, there are also advantages such as saving dosage, quick effect, breaking compaction, loose soil, and significant yield increase.
The new Chaoyang "No-Tillage Fertilizer" is produced using an advanced chromium blending process, so that nutrients are in the most easily absorbed ion state. According to the scientific soil testing data, the nutrient composition is formulated in a targeted manner, and in addition to containing a large number of elements such as nitrogen, phosphorus, and potassium in the fast-acting state, it is also rich in a variety of important intermediate and trace elements.
In the litchi, longan and other tropical fruit trees on the application of "no-tillage fertilizer", both to add nutrients, but also loose soil, promote absorption, improve fertilizer efficiency.
First of all, based on the application of organic fertilizer, the appropriate application of N, P, K fertilizer, plus "no-tillage" Mushi 10-20 kg.
Applicator: Generally, after the rain from March to May, the ground is applied when the soil is moist. If the sunny day is spread, it is necessary to infuse the horse water first, and then pour the water on the surface.
Gully application: spring fertilizer, autumn fertilizer and over-cold fertilizer by furrow application. About 30 cm from the Litchi tree plant open short ditch, width 15-25 cm, length 40 cm, depth 8-15 cm, the fertilizer evenly applied in the ditch, and then cover the soil.
Acupoint application: Spring fertilizer and over-cold (winter) fertilizer can also be applied. Dig 3-5 holes 30-100 cm away from the Litchi tree plant, 15-20 cm depth, put the fertilizer into the hole and cover it with soil. In case of dry days, we must use water to get wet so that the fertilizer can dissolve and dissolve, and then cover the soil.
Chong Shi (Irrigation, Drip Irrigation): Generally, in the period of 3-9 months, the no-tillage fertilizer is dissolved in irrigation water.
We can supply Garlic Braids all the year round. The garlic braids range from 8 to 22 bulbs per braids.The garlic braids can be packed in small bags or cartons.We can also satisfy the packing and the length of braids you desire. The garlic braids order should be placed before garlic harvesting in China.
1. Commodity name: garlic braids
2. Variety: Normal White Garlic and Pure White Garlic
3. Feature: strongly spicy, milk white flesh, naturally bright color, no burnt, no mouldy, no broken, no dirt skins, no mechanical damaged, roots cleaness.
4. Size: 5.0-5.5cm,5.5-6.0cm, 6.0-6.5cm
5. Packing:
a) 500g/braid, 10kgs/carton;
b) 1kg/braid, 10kgs/ctn
c) or packed according to clients' requirements.
6. Braid length: 30cm-60cm
7. Supply period: all the year round
a) Fresh Garlic: early June to end August
b) Cold storaged garlic: early September to the next middle May
8. Transporting and storing temperature: -3°C--+2°C
9. Shelf life: stored for up to 12 months in the proper conditions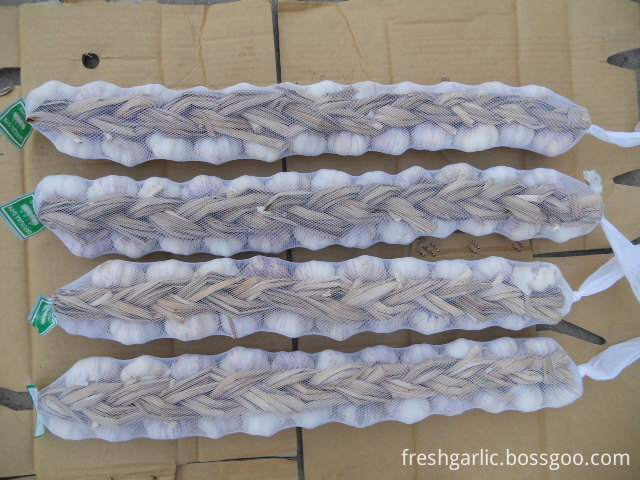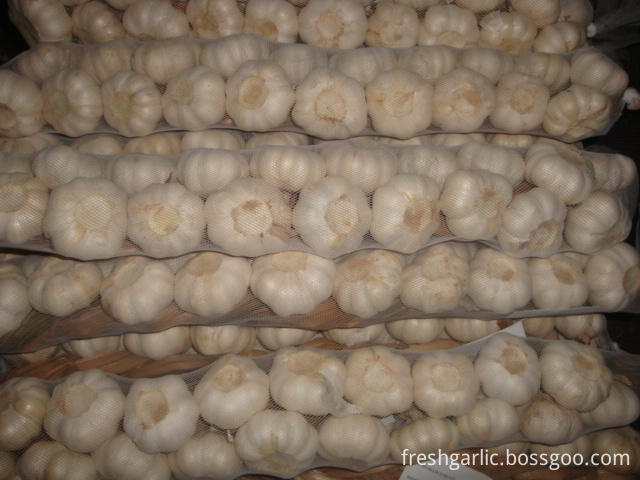 Garlic Braids
Garlic Braids,Fresh Garlic Braid,White Garlic Braid,Normal Garlic Braids
JINING FORICH FRUITS & VEGETABLES CO., LTD. , https://www.forichgarlic.com