Osaka brand gutta percha points 02/04/06 taper can OEM
OSA-G5A  Gutta percha 02 taper 
120pcs/box
#15 #20 #25 #30 #35 #40Â #15-40 #45Â #50 #55 #60 #70 #80Â Â #45-80
OSA-G5A-04  Gutta percha 04 taper 
60pcs/box
#15 #20 #25 #30 #35 #40 #15-40 #45 #50 #55 #60 #70 #80 #45-80
OSA-G5A-06  Gutta percha 06 taper 
60pcs/box
#15 #20 #25 #30 #35 #40 #15-40 #45 #50 #55 #60 #70 #80 #45-80
OEM:5000boxes+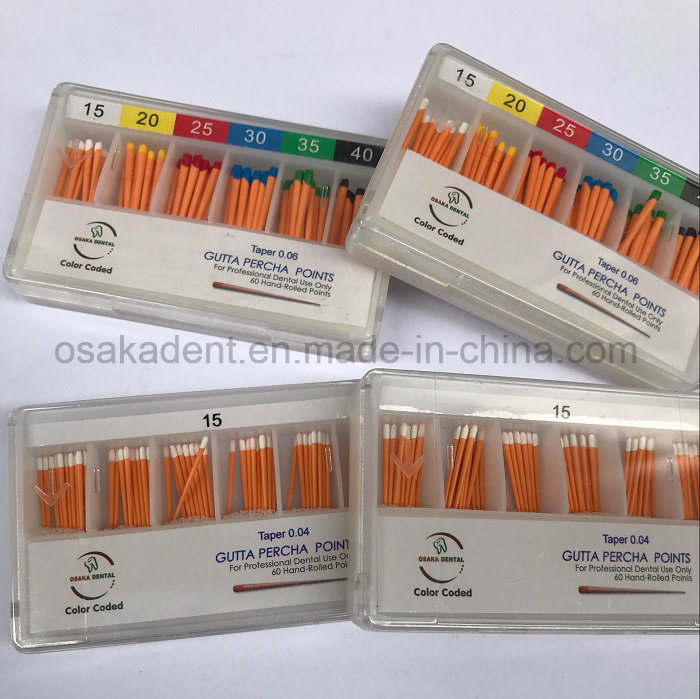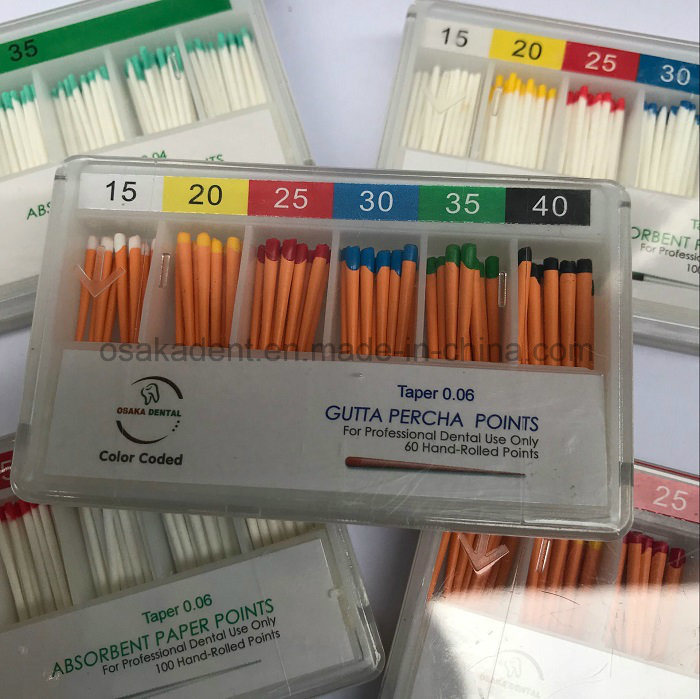 Osakadent Co., Ltd. (Foshan) is a sole proprietorship of Japan OSAKA Medical Equipment Co., Ltd. (HK) in China.
Our company is a professional manufacturer and wholesaler in the dental field, such as high and low-speed turbine, diamond bur, endo file, whitening machine, curing light and other dental accessories. In addition, we also distribute advanced high-quality dental instrument, equipment and materials. Main brands are follows: Densply, 3M, Kerr, TPC, GC, Kuraray, RSK, KAVO, NSK, SAESHIN, Woodpecker, ect. Meanwhile, we offer about thousands of goods with excellent quality and competitive price, such as fiber optic scaler, consumable products, autoclave, whitening machine, dental unit accessories, implant machine, air compressor, bur, mounited stone, amalgamator and amalgamator capsule, grinding machine, lab equipments etc.
"Customer first" is our tenet, "Excellence service, Advanced technology, Good customer relations, Good brand image" is the core of our service concept. We offer one stop service with the most cost-effective products to meet the majority of dealers' need and reward our old and new customers.
We will constantly transcend ourself. Osakadent Co., Ltd. is your better choice!
Known as Goji (Lycium Barbarum L), Wolfberry, or Chinese Matrimony Vines. They are native to China.
Goji berries are also known as Wolfberries (which, ironically, has nothing to do with wolves) but we found that customers prefer to call them Goji more than any other name.
The Goji plant is a bushy perennial that stands from three to five feet tall. When the berries are fresh, they should be oblong in shape, and taste sweet and juicy. Because they`re tender, they`re carefully harvested and hand selected by our farmers.
The main active component in Goji Berries is Lycium Barbarum Polysaccharides.
Our company provides different size of Organic Dried Goji Berries , the standard is how many of grains that its contain in every 50grams. For example, 220 grains / 50 grams, it means in every 50grams, it contains maximum 220 grains or less.
220 grains/50grams, 280 grains/50grams, 380 grains/50grams,
Appearance: color, luster, particle uniform
Pesticide Residues: conform to USDS and EU Standard
Storage: Shading, confined, stored in dry place for 18 month
Support eye health and improve your vision.
Support healthy liver function.
Support normal kidney function.
Maintain healthy blood pressure.
Make you feel and look younger.
Contain 21 trace minerals.
Contain more protein than whole wheat.
Contain B-complex vitamins.
Contain a complete spectrum of antioxidant carotenoids, including beta-carotene and zeaxanthin. Goji berries are the richest source of carotenoids of all known foods.
Contain Vitamin C at higher level than even those found in oranges.
Goji berries can be used as snacks or mixed with recipes in cooking. Also use as nutritional food.health food.cosmetics.drugs .
A good daily intake of Goji berries is between 20-50 pieces.
*These statements have not been evaluated by the Food and Drug Administration. These products are not intended to diagnose, treat, cure or prevent any disease.
[Product Name]Organic Dried Goji Berry AKA Wolfberry
[Specification]220, 280, 380 grains/50gram
[Genus]Lycium barbarum L.
[Source of Raw Material]Ningxia, China
[Production Method ]Hot air dried
[Packaging specifications]5kg/bag x 4bags/carto
[Applications]Nutritional food.health food.cosmetics.drug
[Storage conditions]Shading, confined, stored in dry place.
[Shelf life]18 months when properly stored
[Description]Orange to red berry. Characteristic aroma and taste of Goji Berry .
[major components]Goij contains high percentage of polysaccharides, fat, protein, amino
acid, taurine and VB1.B2.E.C, especially has a high content of carotenoids has a high
[function]As functional food, Goji has function of strengthening kidney, resisting aging,
lowering lipid and blood pressure, anti-fatigue, enhancing immune and improving vision.
[Features]This product is derived from the Ningxia, a native place for Goji berry.
[The product characteristics] Natural, organic, pollution-free; help to maintain a healthy
[Organic certificates]USDA, EU standard
*These statements have not been evaluated by the Food and Drug Administration. These products are not intended to diagnose, treat, cure or prevent any disease.
250Grains/50G Goji Berry,250Granis/50G Wolfberry,Bulk Goji Berry,Haccp Certificated Goji Berry
NINGXIA HONG RISING BIOLOGICAL TECHNOLOGY CO.,LTD. , http://www.hongrisinggoji.com