Medical Devices Reg./Record No.:
Shr IPL
Certificate:
Ce ISO TUV ISO13485
Software Language:
English, Spanish, German, Italian etc
Training:
User Manual+DVD Video+Online Training
Function:
Hair Removal,Skin Rejuvenation,Acne Therapy
Update System:
USB &SD Card Update
Screen:
8.4/10.0inch Touch Screen
Trademark:
KM Health&Beauty
Transport Package:
Aluminum Case
Specification:
12*30 15*50
Best SHR for painless fast hair removal with OPT technology
 
Model number  :   # KM500+ #  (CE ISO13485 TUV BV SGS )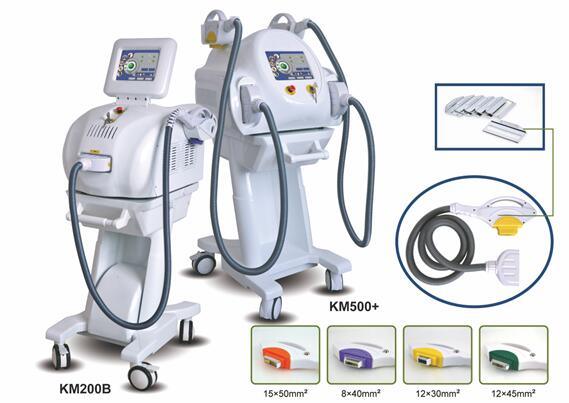 Exclusive advantage of  IPL SHR machine
1. More than 90% parts imported from Germany Italy UK famous brand , highest quality level in this industry .
2. Germany imported high quality and long usinglife Xenon lamp ,which shoot could reach 500,000 times .
3. SHR, SSR, OPT ,IPL four operate mode for your option .  
4. Four fans +big power pump +Â semidonductor super cooling system ,suitable for six skin ,including tanned skin .
5. 12*30mm& 8*40mm&15*50mm&12*45mm four spots size for option . 
6. USA imported sappire crystal with best cooling result , no side effect  , painless really .
7. Inteligent water ,temp ,power alarm system to protect machine , operator , patient safe very well . 
8. Remote control rental system , help you do the lease business easily and conveniently .
9.USB upgarde technology , easily add logo , language ,update system by yourself .
 
Introduction of IPL SHR machine :Â 
 OPT(SHR) is with new AFT technology (Advanced Fluorescence Technology) uses low and equal energy.
The special filter cut s 950-1200nm wavelength, which is useless in treatment and absorbs water to make
patient feel painless.
SHR stands for Super Hair Removal, a technology for permanent hair removal which is having a sweeping
success. The system combines laser technology and the benefits of the pulsating light method achieving
practically painless results. Even hairs which until now have been difficult or even impossible to be removed,
can now be treated. "In Motion" represents a breakthrough in permanent hair removal with light technology.
The treatment is more pleasant than with the conventional systems and your skin is better protected.
Comparison with normal IPL
 
Parameter

Normal IPL

SHR

Advantages

Work Mode

Multi pulse

mode

Single

pulse 

Single pulse mode can emit energy averagely, however,

multi-pulse mode focus energy on first pulse,

which is very easy to  burn patients.

Wavelength

640-1200nm

640-950nm

SHR filtered violet light and infrared light,which will eradiate 

and absorb water from target skin. So SHR does not  have any side-effect to body.

Identified 

hand-piece

unavailable

Available

Identified function makes operation simple and treatment safely!

DEC

Techno-logy

Unavailable

Available

Make sure energy output accurate and same with the display 

all the time, which makes operation easy and safe.

Frequency

0.2-1Hz

1-10Hz

Make handle slide on the skin ,like 808 diode laser, really save treatment time

Work technology

Stationary 

In-motion 

Moving IPL can use less time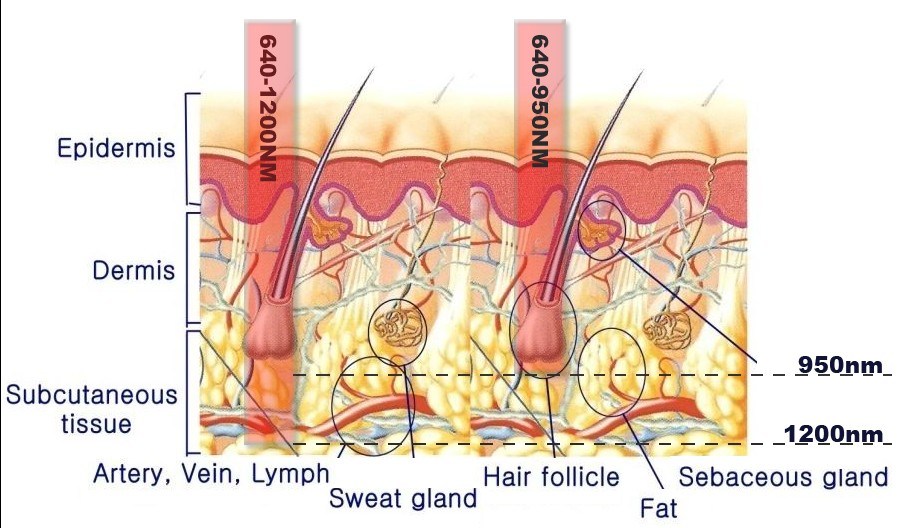 Application :
1 Hair removal             Armpit hair,hairline,bread,whiskers,lip hair,body hair,bikini hair
2 Skin rejuvenation    Skin tightening and whiten,shrink pore,improves flexibility of skin
3 Pigment therapy       Freckle,chloasma,age pigment,sun burn,chorioplaque,etc
4 Vascular therapy      Red face,red capillary,bottle nose,etc
5 Acne therapy            Acne,acne scar, improve the situation of oily skin
6 Wrinkle removal      Dispel false authenticity wrinkles,dilute the fine wrinkles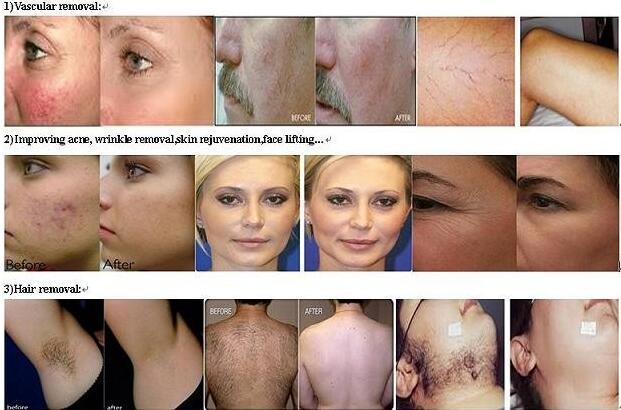 Hair removal IPLÂ SHRÂ Â Machine Parameters:
Model number:

KM500+

Handle Number 

Two handles 

Wavelength 

640,690,750-950nm 430 530 560 590nm -1200nm 

Spot size

8*40 mm²or 15*50 mm² or 12*30 mm² or 12*45 mm² for option

Energy 

1-50J/cm2Â 

Pulse repetition rate

1-10 Hz 

Continuous time 

1-60s 

Skin type 

Six skin type for option 

Languages

English, Spanish, Turkish,Italian, German,Polish, 

Portuguese,French and so on any you want 

Cooling 

Air +Â Fans +semicondutor +TECÂ 

Display system 

8.4" colorful touch screen  

Power supply

220V, 50Hz or 110V, 60Hz
 
Hair removal ipl  Machine detail information  
 
1.Time is short: the first treatment only 20-30 minutes
 
2 Non-invasive: no trauma to the skin tissue
 
3 Painless: without anesthesia, treatment of only a slight burning sensation
 
4 No follow-up care: No special postoperative care
 
5 No side effects: After treatment, no adverse physical or chemical reactions
 
6 Effect is stable: the equivalent of more than ten times the other way effect
 
7 Security: OPT perfect pulse systems are high-tech optics and human biological engineering
 
  technology combine to change the previous way of rejuvenation, remove deep color, high safety
 
  factor, difficult to produce pigmentation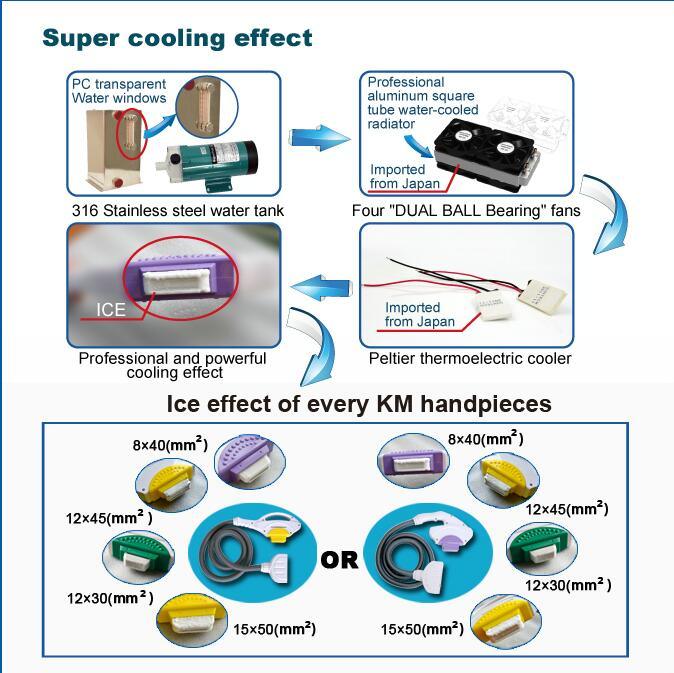 Firm Package of SHR Equipment 
Inside is packaged with foam, while outside is carton &Â aluminum box.
 
 
Question &Â Answer
 
1. Which advantages does this have for you?
An optimal intensity can be achieved given that the same area is treated multiple times with
low energy impulses. The treatment is more comfortable and the skin is better protected than
with conventional methods.
 
2. How are different hair and skin colours affected?
Light skin with dark hair responds most favourably to the treatments. In addition to targeting the
melanin, SHR-technology affects the chromphore, a protein located in the follicle, enabling the
successful treatment of dark skin removing achromous, fine hairs.
 
3. What does the client feel during treatment?
Treatment with SHR is practically painless as opposed to treatment with the conventional IPL
devices. On areas with dense hair growth, warmth from the light impulses is evoked and the
light impulses may be felt to a much lesser extent than with laser or IPL.
 
4. Which areas can be treated?
Body hair can be removed on any part of the body. It is recommended a test be performed
on a small patch before the first treatment.
 
5. How many treatments are necessary?
Until now hair had to be treated during the growing phase (20%-30%). In the telogen phase
stem cells are in a resting phase but can still successfully be treated with the SHR system.
Since growth cycles vary, approx. 8Â treatments are usually necessary.
  
6. How long should the intervals between treatments be?
The hair growth cycle and the interval between treatments should correspond requiring
spacing of approximately 6-8 weeks.
 
7. How much time is necessary for a treatment?
Depending on the size of the area to be treated, the time varies from 15 to 30 minutes for
a facial treatment and about 3Â hours for both legs.
 
8. Will there be any side-effects?
Skin is more sensitive in some areas of the body than in others and redness can occur as
a side effect. It should disappear in a matter of hours but could potentially be as intense as
a sunburn lasting a few days. Contrary to conventional methods, a light crusting which will
vanish after 2-3 weeks, or an alteration of the sin's pigmentation which will disappear after
4-6 months, are very rare.
 
9. Precautions to be taken before the treatment?
At least 1Â week before the first treatment, intense sun exposure or solarium visits should be
avoided. Hairs should not be waxed or plucked less than 6Â weeks before treatment. Shaving
is permitted any time. Areas to be treated should be shaved one day before the scheduled
appointment.
 
10. Precautions to be taken after the treatment?
The skin's natural protection is highly weakened after this intense light treatment. Therefore a
high level of UV protection (30-50) in the form of suntan lotion should be applied for about
1 week.After 1-5 weeks hair will fall out. Shaving is possible any time but hair should not be
plucked.
 
 
Certifications
Certificattions :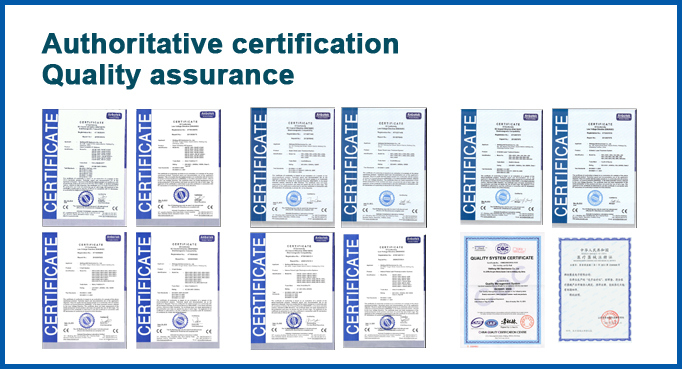 Our every machine have approved by CE ISO13485 TUV SGS RoHS and so on . Quality can be
guaranteed enough . There is no problem using and reselling in your country .
 
FAQ
FAQ:
 
1.MOQ
The MOQ is one set.
 
2.Payment
TT (Bank transfer), Western Union
You can pay  30% deposit for advance. After receiving the deposit,the production will be arranged,
then we will send you product photo to confirm,If there are no more questions,pay the money clear.
 
3.Shipment
1.Express (door to door) :Â DHL, TNT, UPS, Fedex, EMS
2.Air Express to air port
 
4.Package
Outside:carton box
Inside:alumium alloy box
 
5.Warranty
2 years, lifelong technical service
 
6.After-Sale service
We supply product use training include the manual,DVD and online trainning .When a fault occurs ,
engineers and experts to provide guidance for the maintenance.
 
Company Information
Weifang KM Electronics Co., Ltd (Shorted called as KM)Â is located in the beautiful World Kite Capital-Weifang, China.
We are a most leading and professional company engaged in reaserch, developing, production, sales and after-sale services,
Our Product widely used at the department of beauty salon and dermatology hospital and medical institute, Most our products are
certified by CE1023,ISO13485,TUV,SFDA,TGA,RoHS ect. Our product have been exported to America , Europe , Aisa ,Oceania, Africa and so on.
And our distributors and dealer have been in USA ,Canada , Mexico , UK, Italy , Portugal , Germany , Austrilia , Iran , Spain and so on
 
Our mainly products are esthetic devices and medical beauty equipment 
1.IPL Series
2.E-light(IPL&RF) Series
3.Cavitation Slimming Series
4.Vacuum Liposuction Series
5.808nm Diode Laser Hair Removal Series
6.Fractional Co2 Laser Series
7.Q-switched Nd Yag Laser Series
8.RF Radio Frequency Series
9.650nm Laser Slimming Series
10.Multi-functional Series
11. SHR hair removal and skin rejuvenation series
12. Fractional RF skin tightening series 
 
 
Our company offer OEM and ODM Service ,We own professional and high-tech enginner department andsale team and after-sales services
term so that we can offer our customer the best and high-tech beauty and medical equipment, powerful technique support and timely after-sale service. 
We concentrate on high-quality and high tech of the beauty and medical equipment .Quality and after-sale service is our life, customer is king,
Welcome every customer who are from all over the world come to visit our company, sincerely hope we can establish a long term business relationship in the near futrure! 
Welcome to China!!!
Welcome to Weifang City!!!
Welcome to Weifang KM !!!!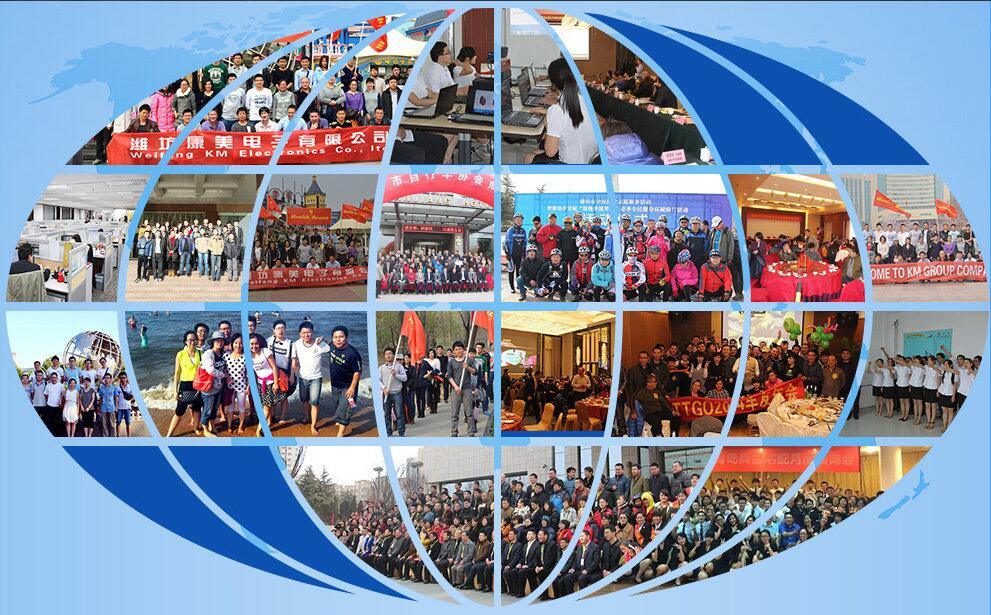 Contact Info
Weifang KM Electronics Co.,Ltd
Oversea Sales Manager :Â Jessie
 
Cell Phone: 0086 15095095081
 
Address: No.185 Gaoxin District Weifang city China 
 
 
 
Black Goji growth in the elevation of 2700 meters, rich in protein, fat, sugar, free amino acids, organic acids, minerals, trace elements, alkaloids, vitamins and other more than 100 kinds of human essential nutrients.
Black Goji Berry's Usages:
1. Direct eating or soaking
2. Adults eat about 5 grams per day Black Berry fruit more suitable
3. Black berry fruit in alkaline water blue, purple in acidic water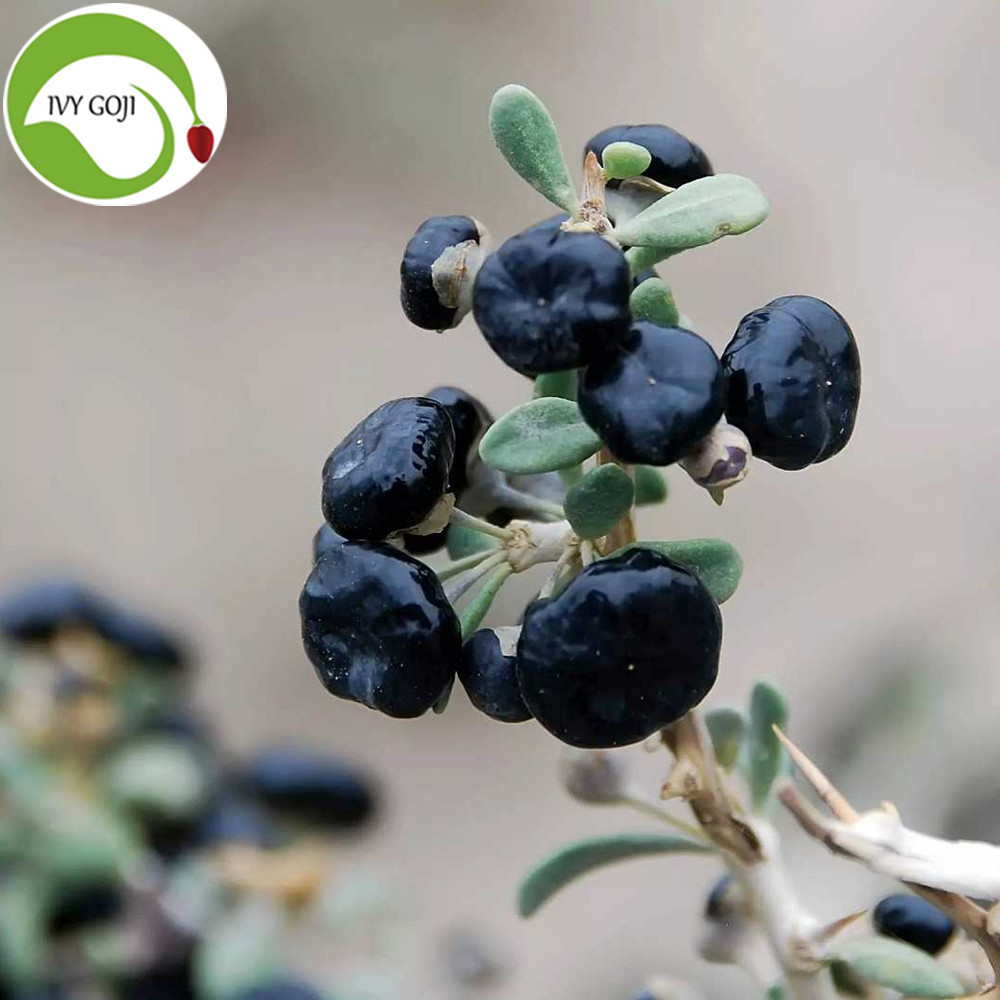 Black Goji
Black Goji,Black Berry,Black Wolfberry Fruit,Black Wild Wolfberry
NINGXIA IVY BIOTECHNOLOGY CO.,LTD , http://www.berries-goji.com