Model NO.:

E-light03

Theory:

IPL

Portable:

Portable

Three Handpieces:

Elight&RF &Laser Handpiece

ND YAG Laser Energy:

1000mj

Lamp Longevity:

500,000shots (Shr); 100,000shots (E-Light)

Cooling System:

Wind+Water+Semiconductor Cooling

Certificate:

CE

Transport Package:

Aluminum Package

Origin:

Beijing, China
Type:

Hair Removal Instrument

Application:

Salon, Clinic, Hostipal

Display:

8.4 Inch Touch Display

Power:

2500W (Elight ); 800W (Laser)

Energy:

1-50j/Cm2(RF) 1-50j/Cm2(Elight,IPL Shr ,SSR)

ND YAG Laser Longevity:

100, 000shots

Shot Period(Frequency):

1-5 Second Adjustable(Elight and Laser)

Trademark:

MB

Specification:

CE
Color Touch Screen Super combination Multi-function machine ND YAG laser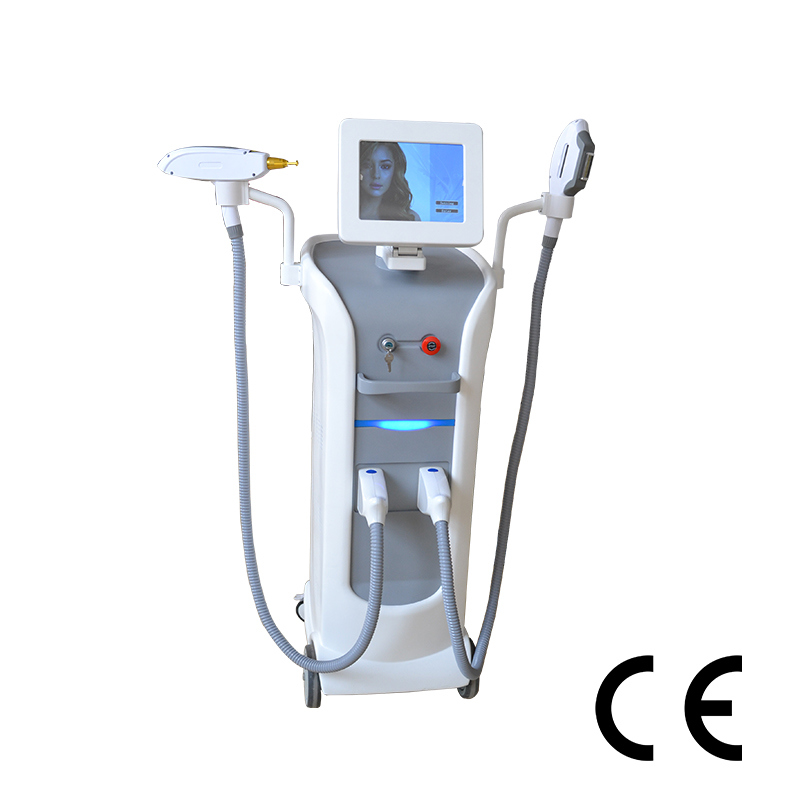 1) Applications of IPL,Elight,SHR ,system,
hair removal ,skin rejuvenation ,shrink pores ,
photo rejuvenation acne treatment and vascular lesions,
skin tightening, face lifting and body shaping ,
pigment removal :epidermis speckle ,fleck aging spot ,chloasma etc .
 
2) Application of SSR ,RF system
It is mainly dealing with both face and body skin lifting . wrinkle removal . skin tightening .body contouring shape .
 
3) Application of ND YAG laser system is mainly dealing with all kinds of tattoo removal .
 
Technical Parameter
 
Headpieces
E light handle by 12*30mm or 15*50mm with 5 filters
RF handle for both body and face treatment
Laser handle with 1064nm and 532nm for all kinds of tattoo removal
1320NM black doll soft laser skin whitening head for your option
480nm-1200nm for acne , vascular lesion .
530nm-1200nm for red face,red nose,spider veins,skin rejuvenation,wrinkle Removal
590nm-1200nm for pigmentation removal,age spots,sun spots,pigmentation troubles
640nm-1200nm for hair removal ,depilation
690nm-1200nm for breast enhance hair removal
 /
430nm-1200nm for acne (option)
560nm-1200nm for skin rejuvenation(option)
755nm-1200nm for hair removal on dark skin(option)
Display
8.4 inch color touch LCD screen (for elight and rf )
5.1inch color touch LCD screen (for laser tattoo removal)
Language available
English, Spanish, Italian etc in all 10 different languages
Energy
1-50J/cm2(RF)Â Â Â 1-50J/cm2(Elight)
1000MJÂ (ND YAGÂ Â LASER)
Pulse width:
0.1-9.9ms
Pulse number:
1-99
Pulse delay:
1-99ms
Output Power
2500W for SHR and Elight;Â  800w for laser
Shot period(Frequency)
1-5 second adjustable(Elight and Laser)
Lamp longevity:
100, 000shots
Cooling way
Semi-conductor + water + wind cooling +cooling gel
Voltage
AC 110V/220V, 60Hz/50Hz
Package include
1.       Laser handle X 1
2.       E-light Handle X 1
3.       RF Handle
4.       Filter X 5  , RF head X3
5.       IPL and laser Protective Goggles X 4
6.       Foot switch X 2
7.       English manual/instructions
8.       Funnel x1
 
 
Features 
1. Long continuing working tects;Â 
3. Powerful energy, mulime;Â 
2. No downtime, No side affti-fuctions with one machine;Â 
4. CPC connector of instantly Plug and Play;Â 
5. Three cooling systems together, be more effective and safer;Â 
6. Modular Design of inner structure, easy to repair;Â 
7.8.4" TFT colorful touch screen.
Silage Twine is for square bale package of hay especially, which requires high strength and viscosity.Most of farms prefer this twine for hay package stacking.For agriculture,packing,farm ,Various packing .Cheap and simple for use.Resin UV Stabilized for Min. 12 months outdoor ,contains special UV light inhibitors, allowing it to endure lengthy exposure to sunlight.Twine runs trouble-free in baler.High visibility - blue/silver in color. Quickly and easily wrap up your bales of hay with this baler twine. Constructed with extra long, uniform fibers, this twine is designed to move through the baler without knotting. Treated to resist pests, this twine is biodegradable and environmentally friendly.
Sisal Baler Twine,Silage Twine,Silage Binding Rope,Hay Silage Baler Twine,Silage Jute Twine
Zibo Maoyang Industry and Trading Co.,ltd , http://www.mysilage.com