Factory:
Two Hours Away From Shanghai
Specification:
188*115*196mm
AG-XB-Y1200 High-quality double channel  IV infusion pump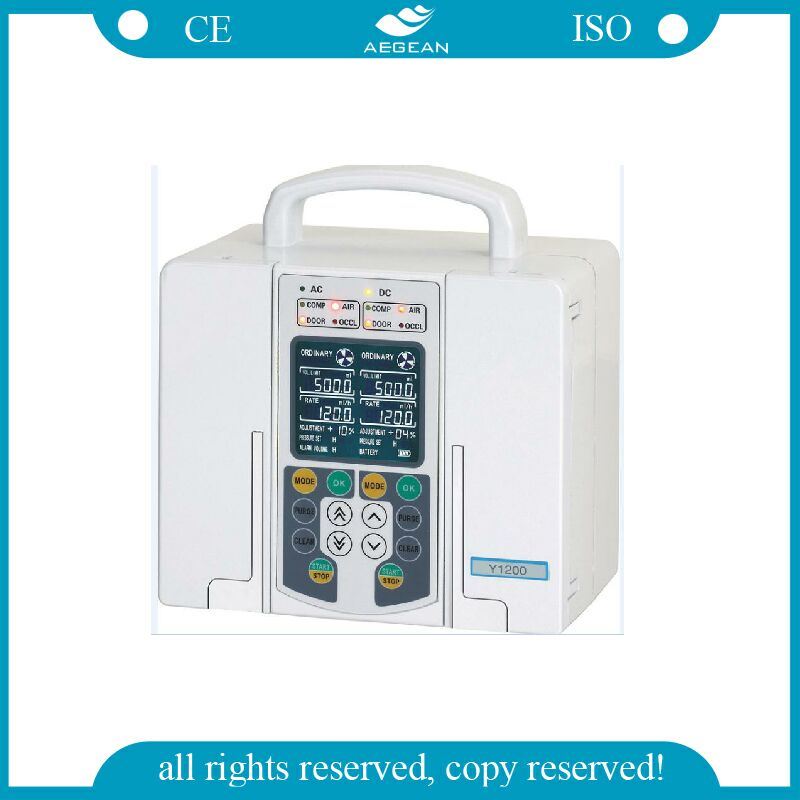 IV Infusion pump
1) 2-Channel Medical Infusion pump
2) lowpower Medical Infusion pump
3) low-noise Medical Infusion pump
Keen Alarms
Once the pump works, the alarms (Air, Occlusion, Low battery, door open, infusion complete) start. The pressure of the occlusion can be adjusted through the pressure sensor for suiting different kinds of infusion set.
Adopting to a wide range of voltage
The AG series pump can work normally, when the voltage is from 90V to270V
KVO function
When completing infusion, the pump can switch into KVO automatically
Low power consumption and noise
The total power consumption is less than 18VA and the noise is lowered a lot because of fine circuit design and reasonable mechanical drive
Fine after-sale services
We provide two-year free maintenance and lifelong maintenance for the pump. You can be assured to use the product.
Flow Rate Range 0.1-1200Ml/h
Matched Tube Type Match all types(PVC), The special tube should contact supplier
Adj. Infusion Range 999Ml
Infusion Precision ± 3%(Adj. )
KVO Speed 1-3Ml/h
Beep & LED Alarms Power switch/occlusion/air in tube/door open/infusion finished/low battery/no operate/tube error installed/ no medicine liquid/tube spoilage
Drop Ctl Precision No
Drop Scan Sensor No
Air Scan Sensor Ultrasonic
Pressure Range 30Kpa-160Kpa (High, Middle, Low Adj. )
Beep Adj. Range High, low
AC Power AC100V-240V± 10% 50Hz-60Hz
Insider Battery
Ni-MH Battery(12V): Infusion time 4hours with battery
Lithium cell(12V): Time 6-12hours with battery
Power consumption Less than 18VA
Security Classification Class I, BF type
Working Condition Temperature± 5° C-+40° C Humidity 20%-90%
Purge Yes
Ml/h: Drop/min Auto Change
Dimension 188*115*196mm
Weigh (kg) 3.8
 
Similar Products: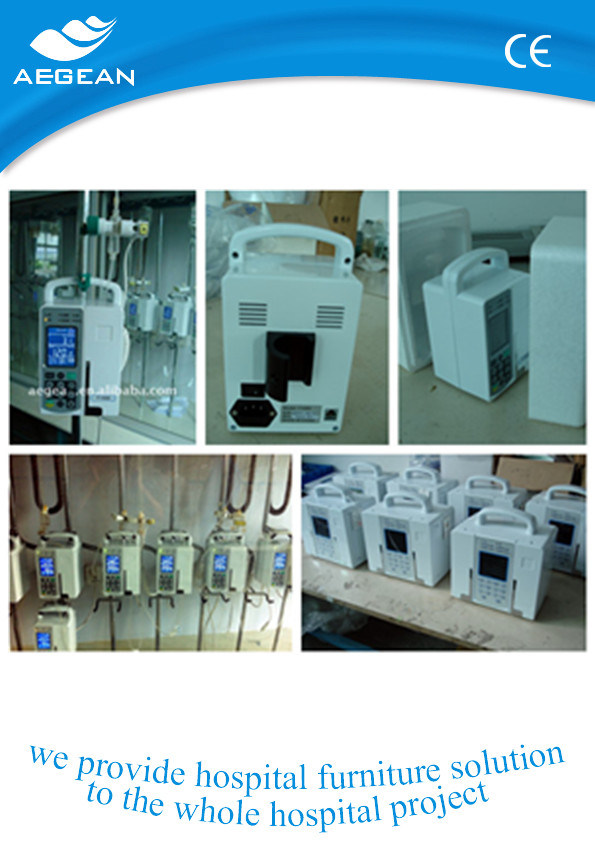 Welcome to our Aegean Technology
Dental Hygienist Chairs,Sirona Dental Unit,Dental Chairs
Dental Small Equipment Co., Ltd. , http://www.szdentalmaterial.com