Products Size:
130 (L)* 100(W) *60(H)
Display:
OLED Two Color Display
SpO2:
Measurement Range: 70~99%,
Transport Package:
Carton Packing
Specification:
130(L)*100(W)*60(H)
  Medical Finger Oximeter For Measuring SPO2 And PR Value(OLV-80b)
 



Model

OLV-80B

Display

 OLED two color display

SpO2

Measurement range: 70~99%, 

Resolution

 ±1%

Accuracy

 ±2% (70%~99%), unspecified (<70%)

Pulse rate

Measurement range: 30~240bpm,

Dimension and Weight

130 (L) *100(W) *60(H) mm,65g(without batteries)

Package Details

Features

1,

Product adopts double color OLED display,can show the six different display 

mode

OLED,

2,

Low-power consumption, continuously work for 40 hours

 

,

3,

 Low voltage indicator

 

4,

 In the absence of signals, the product will be in after 8 seconds to enter

standby state

 

,

5.Visual and auditory prompt function. Small in volume, light in weight, and convenient to carry

  

.

,,

Product Description:

  

 

 This Fingertip Pulse Oximeter is a kind of innovated medical device with non-invasive and continuous features for artery SPO2 and PR detection. Being portable, it is able to measure SPO2 and PR values quickly and precisely.Haemoglobin Saturation is the percentage between the capacity of Oxyhemoglobin (HbO2) that  compounded with oxygen and that of all combinativable haemoglobin (Hb) obin (HbO2) in blood. In other words, it is the saturation of Oxyhemoglobin in blood. It is a very important physiological parameter for Respiratory and Circulation Systems. Many respiratory diseases could reduce haemoglobin saturation in human blood. Moreover, factors such as Automatic Organic Regulation Malfunction caused by anaesthesia, trauma resulted from major operation and some medical examination can also cause problems in oxygen supply, which might reduce human haemoglobin saturation. As a result, such symptoms as megrim, vomiting and asthenia might appear to patients. Hence, it is very important to know hemoglobin saturation of patient timely in clinical medical aspects.The fingertip pulse oximeter features in small volume, low power consumption, convenient operation and  portability. It is only necessary for patient to put one finger into fingertip photoelectric sensor for diagnosis, and the display screen will directly show measured value of hemoglobin saturation. It has been proved in clinical experiments that it possesses rather high precision and repeatability. 
 
Working Principle And Operation Instructions 







Diagram of Operation Principle


 
Working Principle


The principle of the oximeter is as follows: An experience formula of data process is established by exerting Lambert Beer Law according to Spectrum Absorption Characteristics of Reductive hemoglobin(R Hb) and oxyhemoglobin (O2 Hb) in glow and near-infrared zones. Operation principle of the instrument is to combine Photoelectric Oxyhemoglobin Inspection Technology with Capacity Pulse Scanning and Recording Technology, so that two lights with different wavelength (660nm glow and 940nm near infrared light) can be focused onto human nail through perspective clamp finger-type sensor. Then measured signal can be obtained by a photosensitive element, information acquired through which will be shown on two groups of LEDs through process in electronic circuits and microprocessor.


Operation Instructions 
1.Install two AAA batteries into battery cassette before covering its cover. 
2.Plug one finger into rubber hole of the Oximeter (it is best to plug the finger thoroughly) before releasing the clamp with the nail upwards.
3.Press button on the front panel;
4.Don't tremble your finger when the Oximeter is working. Your body is not recommended on moving status. 
5.Press the button on the front panel, if we want change display direction;
6.Read relevant datum from display screen.
7.If there is no signal input, oximeter can shut off automatically;
8.Please replace new batteries when OLED indicates the batteries are in low power. 

 
Brief Description of Front Panel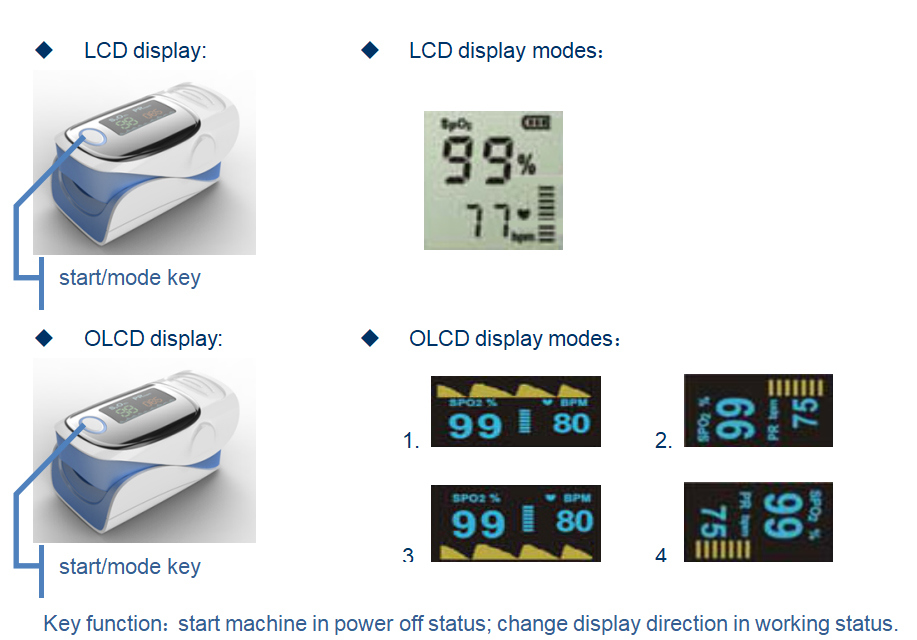 Three shipping method for you choose
Method

Shipping company

Shipping time

Service

Advantage

Suit for

By Express

DHL,UPS, TNT, FEDEX

5-7 days

Door to door service

Fast, Simple.

Sample order




(1-5 sets)

By Airmail

All kinds of airline

4-5 days

A

irport to airport service. You have to do custom clearance and pick up order at airport

Low shipping cost, fast

O

rder more than 45kg

By sea

Seaport: Shanghai, Shenzhen, Guangzhou, Tianjing,Shangdong

About 30 days

Seaport to seaport service.You have to do custom clearance and pick up order at

seaport

Very lower shipping cost

Big quantity order, more than 30 sets.
FAQ
1. Q: When can I got the finger oximeter price list?
A: We usually quote within 24 hours after we get your inquiry. If you are urgent to get the price list, pls call us or tell us in your email, so that when can reply you priority.
2. Q: How can I get a sample of finge oximeter to check the quanlity?
A: After the price is confirmed, you can require for sample to check the our quanlity. For factory stock samples, we can offer for free but freight collect. For OEM samples we will charge the cost, but sample cost refundable after order confirmed, and quantity reached our MOQ.
Company introduction
Zhengzhou Olive Electronic Technology Co.,ltd,
established in 2006, is a rapid growing enterprise who integrate the production and marketing of oxygen concentrator and related healthcare products. After 12 years' efforts and development, now we have become one of the leading oxygen concentrator manufacturers and suppliers in China. We are always keeping very kind relationship with many strong medical factories and research institutes in China. We have been enjoy high reputation in medical health care market domestically and internationally. 



Our factory focus on produce most kinds of oxygen concentrators in China, which includes the home medical use oxygen concentrator, the portable oxygen concentrator, and the high flow oxygen concentrator,. With professional manufacturing plants, we can do the OEM for customers as required. The products we are producing are almost covering most of the oxygen concentrators which can be manufactured in China.
  Olive have an special professional registration department, which in charge of domestic registration and oversea registration. We can help our current of potential customers to do the registration work. our factory implements ISO 13485 strictly, all of our products are in accord with medical CE. And we have a good relation with domestic famous institute who can provide us with authoritative medical analysis and authorization report. Quality and Service are always top concern in Olive. We provide full set of service, including date and samples, which are available on request.


   Quality product performance and good reputation, our products are not only successful sales in China, and       have been exported to more than 120 countries and regions in the world, including: Germany, Japan, Italy, Russia, Japan, South Korea, Turkey, Brazil , India, the United Arab Emirates, Saudi Arabia and other countries, the products are subject to a great welcome and praise.
Olive 's mission is "Create a platform to achieve self-worth! Focus on products and services and focus on the health and beauty of global users." and our Tenet is "A group of people with dreams, do meaningful things, bloom wonderful life !"We are always trying our best to offer the best services and the most competitive prices with high quality goods for our customer. It's the way we with our customers and the market.Given chance and full space, we would show you all of our advantages and let's grow up together. I'm sure we can establish long-term and friendly business relationship with your esteemed company because of your trust and our excellent service.
 
 
 
 
 
Sodium Hexametaphosphate,Stpp Sodium Tripolyphosphate,Sodium Tripolyphosphate
Xuzhou First Chemical Co., Ltd , http://www.chfertilizer.com